The Second Pinna Karate Course-Velvet Beach 3rd, 4th, 5th and 6th of July, 2008.

There were representatives from Wales, England, Denmark, Germany, France, Switzerland, Romania and of course Italy present at the course. Wales has been represented by Yoshitaka Karate Club (USKW) Swansea: Patrizio Camillini (Instructor), P. Joyce, H. Cooze, L. Joyce, B. Cooze, L. Morgans, S. Morgans, T. Watkins, R. Lewis, and J. Dobson.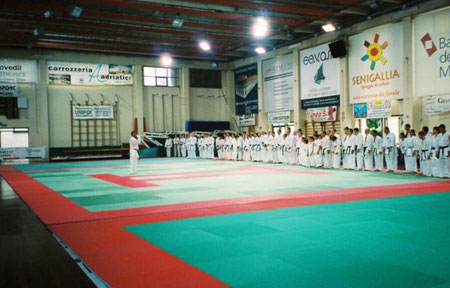 Sensei Camillini and some students travelled to Senigallia, Italy to Train with Sensei Christophe Pinna, the multi WKF World Champion, at a course on the 3rd, 4th, 5th and 6th of July, 2008.
The hugely successful course was organised by Senigallia Police Force and the Local Council. The training was wonderfully lead by multi-WKF Champion Karate-ka Christophe Pinna (France).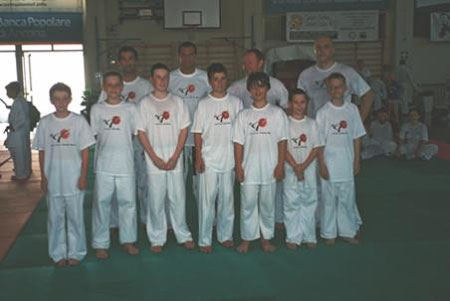 The course was split into two sessions; during the morning sessions there was athletic preparation on the beach and the athletic track. In the afternoon session we worked on the technique and strategy of modern kumite insider the Sengallia Leisure Centre. Sensei Pinna has developed a programme on the methodology to improve the action and reaction skills in kumite, providing very interesting exercises! All the participants left the course feeling very enthusiastic and promised each other to see them again in Sengallia for next years course!
'The course has been four fantastic days where very good karate was developed and good friendships were forged' - Sensei Camillini.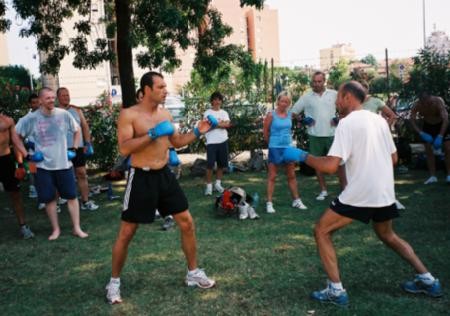 Sensei Christophe Pinna (4th Dan)
Sensei Pinna is well known for his kumite skills, he was a member of the French National Team, and part of the French Male Team Kumite that won two consecutive World Karate Federation championships! In 1993 he won his first World Title at the Algerian World Cup in 1993. He went on to become a very successful competition karate-ka achieving the following:
Six times French Champion.

Twice won the French.

Six times WKF European Champion.

Twice won the Mediterranean Games.

Twice won the World Cup.

Four times WKF World Champion.

World Champion Open.
He also uses his immense experience and talent to help other karate-ka, and he is in great demand all over the world. In January 2001 he trained the Greek National Team, then in June 2001 he was appointed by the French Federation to be the French National Trainer. In November 2001 he was appointed the World Karate Federation chairman of the World Athletes Commission. By August 2005 resigned from his assignment as trainer of the French national team, and now he teachers students and coaches top athletes all over the world! Not only that but like Sensei Hiroshi Shirai he has developed his own gi-the Pinna First, which is specially designed for Kumite (You can get it from Kamae just click "Pinna-First" on the left hand menu bar to check out this awsome gi!)
For more information on Sensei Pinna please go to: http://www.christophe-pinna.com
Details from Pinna's Official Website.