Yoshitaka News Page
Yoshitaka on Facebook!
(05/12/11) You can now find us on Facebook!
Christmas Period Class Changes.
(29/11/11) Due to events at our usual locations over the Christmas period Yoshitaka training times are disrupted however Sensei has managed to secure some alternate venues. Please take note of the following changes
| | | | |
| --- | --- | --- | --- |
| Date | Time | Location | Class |
| Fri 02/12/11 |  5.30 - 6.30pm | Parkland School | Adults |
| Mon12/12/11 |  5 - 6pm | Parkland School | Children Beginners |
| Mon12/12/11 | 6.30 - 8pm | Parkland School | Adults |
| Wed14/12/11 | 5.30 - 6pm | Bishop Gore School (Girls Gym) | Junior Improvers |
| Wed14/12/11 | 6.30 -7.30pm | Bishop Gore School (Girls Gym) | Adults |
| Fri 16/12/11 | 5.30 - 6.30pm | Parkland School | Adults |
| Sun 18/12/11 | 11am | Sketty School | Kyu Grading |
| Mon 19/12/11 | 5 - 6pm | Parkland School | Children Beginners |
Karate will take a break for the holidays after Wednesday 21st December, and will start back from Saturday 7th January at our usual time and place. On the 9th January Adults class which will be held in Bishop Gore School (Boys Gym). After that training will resume as normal.
The USKW Kyu Grading will be held on Sunday 18th December at Sketty Primary School from 11am.
Sensei would like to wish all members of Yoshitaka and their families a merry Christmas and a happy New Year. 2011 has been a wonderful year for Yoshitaka Karate Club, with many highlights and achievements. We have a lot to look forward to in 2012, see you in training!
Venue Change!
(23/11/11) Please note a venue change for Wednesday 30th November training, due to the strike our venue is closed for the day. Insted of no training Sensei has managed to arrange a session over at Tycoch College 6 - 7pm. See you there!
Junior Kyu Grading Syllabus Updated.
(23/11/11) The USKW grading syllabus for junior kyu grades has been updated and posted online click the link here to view.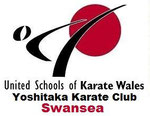 Next Kyu Grading.
(07/11/11) The next United Schools of Karate Wales Kyu Grading will be held on 18th December, at Sketty Primary School. Sensei will inform you if you are ready to grade - keep training and good luck to all who grade.

Summer Break 2011.
(23/07/11) Karate classes will be on as normal until the 30th of July and will restart again on the 5th of September at the same venues and time.
Sensei wishes all Yoshitaka members and their families a lovely, restful summer break and looks forward to seeing you all in September.
Kyu Grading Sucess.
(23/07/11)Well done to all who graded last week. Everyone did exceptionally well showing their determination and skills. Sensei was very proud with everyone's performance.
1st Kyu
D. Phillips
M. Vignesvaran
G. Burnell
S. Gowda
3rd Kyu
A. Giardelli
D. Giardelli  
B. Harris
J. Kinsella
H. Snell
4th Kyu
C. Thomas
L. Humble 
W. Davies
C. Jones
J. Jones
B. Osborne
H. Davies
C. Batcup
5th Kyu
K. Clewett
J. Clewett
O. Wood
T. Langford
6th Kyu
D. Taylor
N. Taylor
L. Morgan
N. Camillini
J. MacGowan
C. Johns
7th Kyu
R. Evans
L. Davies
J. Richmond
8th Kyu
I. Eddyshaw  
M. Barlow
N. Barlow
D. Lucini
K. Pickard
K. Pickard
K. Owens
U. Rahman
A. Middleton
9th Kyu
A. Hathaf
H. Hathaf
H. Hathaf
T. Boyce
J. Boyce
G. Cawsey
C. Cawsey
R. Brooks
J. Evans
E. Owen
J.Williams
B. Killian
L. Hazell
H. Jonathan
M. Phillips
K. Pickard
5th Velvet beach kumite course with Christophe Pinna in Senigallia Italy.
(10/07/11) From the 7th July to the 10th July the following partecipants from Yoshitaka took part in the training with over 120 Karateka; Patrizio Camillini, David Phillips, Elizabeth Phillips, Patrick Joyce, Liam Joyce, Louise Joyce, Jamie Williams, Lewis Humble, Paul Davies, William Davies, Harry Davies, Cerys Thomas. It was another very sucessful course with student's practising some excellent techniques learnt from kumite legend Christophe Pinna.
(23/05/11) USKW Competition Results.
Many congratulations to all our participants and our referees from Yoshitaka, Morriston Wado Ryu and the Shotokan Way.
Catergory white-orange belt:
1st Emmanuel Davies, The Shotokan Way Bridgend
2nd Darcy Peel, The Shotokan Way
3rd Kyle Pickard, Yoshitaka Swansea.

Catergory red belt: 
1st Luke Archibald, Wado Ryu Morriston
2nd Jasmine Eagles, Wado Ryu Morriston
3rd Morgan Thomas, Wado Ryu Morriston
4th Jacob Richmond, Yoshitaka Swansea

Catergory yellow-green belt:
1st Naomi Riggend, Wado Ryu Morriston
2nd Hannah Carson, Wado Ryu Morristion
3rd Kyle Martin, Wado Ryu Morristion
4th Nati Camillini, Yoshitaka Swansea
Catergory purple-brown belt:
1st Lewis Humble, Yoshitaka Swansea
2nd Cerys Thomas, Yoshitaka Swansea
3rd, William Davies, Yoshitaka Swansea
4th Ben Osborne, Yoshitaka Swansea
Well done to all on the excellent performances!
(15/03/11) 3rd Annual USKW Course.
This years annual course and dan grading will be held on June 19th. We are pleased to welcome Sensei Shawn Banfield as the guest instructor. More details will follow in due course.

(10/02/11) Chance to train with Chrsitophe Pinna in Italy!
That time of year is almost upon us - if you would like to train kumite with the multi world kumite champion in Italy between 6th and 11th July, then get in touch asap!
(01/01/11) Happy new year to all present, past and future members!