Yoshitaka Shotokan Karate Club
Welcome

Welcome to the Yoshitaka Karate Club Website. The club is Swansea (Wales) based and we practise Shotokan Karate.
We are a friendly club and welcome both adults and children. 
To join us visit and 'like' our Facebook page or email us at Yoshitaka.karate@gmail.com. 
We hold training sessions in various locations across Sketty and Upper Killay. The club is affiliated to the United Schools of Karate Wales (USKW) and our Sensei, Patrizio Camillini is the Chief Instructor of USKW.
See above menu for our training times and further information regarding our style and instructor. Please feel free to contact us to see which class is best for you.  
Latest news
Kyu & Dan gradings
Congratulations to everyone who completed their grading this week.
You have all worked really hard and progressed very well. 
Keep up the good work! 
We are proud to announce 4 new Black belts in our Yoshitaka Karate family. Congratulations to Grace, James, Christian and Harley on your Shodan - this is a testament to your hard work over the years and your sterling effort on the day. Look what can be achieved when you put your mind to something!
Good luck to you and to those starting out on their karate journey.
Wear your new belts with pride.
Summer term dates
The last karate class of the Summer term will be on Saturday 20th July.
N.B. the two classes on Sat 20th will be combined into one at 11-12am.
Classes will recommence on Wednesday September 4th.
Our Sensei Camillini...
...demonstrating perfect stances.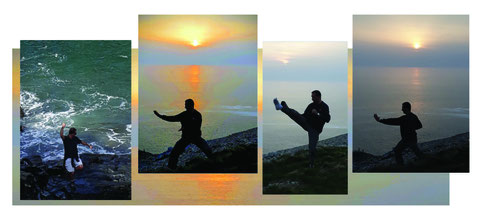 Only a strong karateka would attempt Gangaku at waters' edge!
Competitions
If any students are interested in taking part in competitions please let Sensei know.
----------------------------------------------------------------------------------------
Training App
The Karate WKF app is available FREE on Android and Itunes Appstore.
It has excellent explanations and examples of karate terms and technique plus diagrams of all shotokan kata with links to youtube videos.
Facebook page
You can find and 'like' us on Facebook to keep up with the latest news.